Those looking to up their photography game inevitably start considering digital SLR (Single Lens Reflex) cameras. DSLR (Digital Single Lens Reflex) cameras can be complex, but users tend to find that they get the hang of things pretty quickly. Having good auto settings makes the transition easier, and new photographers can get used to the camera before moving into custom settings to elevate their practice even more.
Beginners looking into DSLR cameras tend to check out the heavy hitters first: Nikon and Canon, and for good reason. These brands are well-established leaders in photography, particularly digital. The Canon's EOS Rebel SL1 was our pick for one of the best DSLR cameras for beginners. The Rebel SL1 is an older model that's currently offered at a great price (under $500), making it a super affordable and accessible pick for new shutterbugs.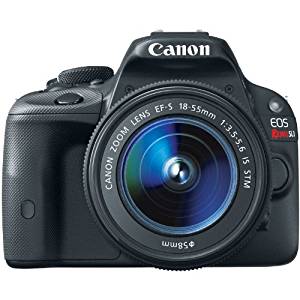 Specs
Here are some of the key specs of the Canon Rebel SL1
18 MP APS-C CMOS Sensor
DIGIC 5 Image Processor
0″ 1.04m-Dot Clear View II Touchscreen
Full HD 1080p Video Recording at 30 fps
9-Point AF and Hybrid CMOS AF II
Native ISO 12800
4 fps Shooting for 28 JPEG, 7 Raw Files
63-Zone Dual-Layer Metering System
Scene Intelligent Auto Mode
EF-S 18-55mm f/3.5-5.6 IS STM Lens
Parents' Choice
Many of the features of the SL1 make it pretty clear who Canon's target customer is. The "Special Scenes Mode" gives users a simple way to adjust the settings based on three common shoots: Kids, Food, and Candlelight. These modes are preset to capture the scene in just the right way, giving newbie photographers a chance to use the camera right out of the box.
Even the auto settings (without those specific shooting modes) produce nice shots, though of course they can be improved with manual settings once learned. The entire setup is user-friendly and intuitive. That makes this camera a super attractive pick for busy parents who want to take the camera out and use it – and figure out the additional features when time permits.
Creative Shooting
Those same presets and modes that make the SL1 attractive to parents also beckon other would-be shutterbugs with filters and effects. A few of the included filters are Art Bold, Water Painting, Miniature, and Soft Focus. There's even a Miniature Effect for movies, making this a fun camera for some creative shooting.
Shooters can use those effects in Effect Shot Mode, and the SL1 will capture the image with the effect and without. And, until you figure out aperture and other settings, you can use Background Simulation to automatically blur or sharpen your backgrounds.
Design
One of the biggest appeals of the Rebel SL1 for many shoppers is its size. It is compact and lightweight, making it a great choice for users of all ages and abilities. It also functions well as an entry level Canon because you can add lenses that will work with different models (as long as you stick with the crop sensor, otherwise you might need an adaptor). The popular EF 50 mm f/1.8, for example, is an affordable add on lens that gives you beautiful portrait shots.
The interface is extremely functional, too, again making it a great option for first time DSLR users of any age or ability. The touchscreen works great and gives you direct access to all the settings you'll need, without getting too technical. Playback is a breeze and works even in bright light.
Bottom Line
The Canon EOS Rebel SL1 will soon be replaced by the SL2, which should have some new bells and whistles. But, at a stellar price, the SL1 is worth picking up right now. Parents, budding creatives, and hobbyists will love the usability and the features, as well as the affordable lenses and intuitive interface.