If you are the proud owner of a digital SLR camera, you will probably find that you need a tripod at some point. Tripods are necessary for a number of different situations: from long exposure to astrophotography, to telephoto lenses and adding yourself to group photos. Getting extreme close ups, shooting in low light conditions, reducing vibration in videos – all of these situations and plenty more demand a tripod.
A cursory search for DSLR tripods will turn up a huge selection of products and wildly different price points. It's important to note that, as with many DSLR accessories, paying more to get quality products is important. Cheaper tripods might do the trick for less expensive entry-level cameras with kit lenses (which are not very heavy). For more expensive – and, thus, heavier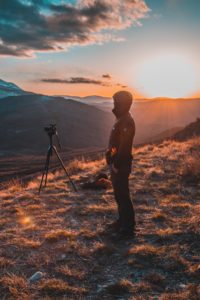 – equipment, a cheap tripod won't be able to safely hold it, and you could ruin your gear.
In addition to ensuring you get a tripod that can accommodate the weight of your camera body and lenses, you also want to factor in how you'll be using the tripod. For example, if you do a lot of hiking to shoot landscapes, you need a tripod that isn't super heavy or bulky – you have enough weight to worry about without a tripod adding a bunch to it.
One of the most important specifications of the tripod you buy is weight rating. Weight rating is the maximum weight that the tripod can hold. Understanding the weight rating you need comes from the weight of the camera body plus the weight of the lens (or lenses) you will use most often.
The weight of the tripod is probably an important factor, too. Tripods can be heavy, and if it's something you'll be carrying around for long periods of time or on uneven terrain, you might want a lighter model. Remember that the tripod's weight will add weight to the gear you're already carrying.
Lighter weight tripods are either designed with a lower weight rating, or they are made of lightweight, sturdy material. These factors can impact the total cost of the tripod.
Weight rating and the weight of the tripod itself are just two of the aspects that you should consider before buying. Some additional features of tripods include:
Tripod height: The height of the tripod should match or exceed yours so that you don't have to bend down to see the viewfinder
Durability: Depending on what you'll be putting the tripod through, and based on the climate and location of your shoots, you probably want to consider how durable the tripod is
Stability: Related to weight rating and durability, the stability of the tripod should be excellent so that you don't have to worry about damaging your expensive equipment while you're trying to catch the perfect shot
Legs: Tripod legs will be tubular or non-tubular. These types will help indicate how they lock. Additionally, legs will have a few segments – more segments often mean less stability, so keep that in mind
Feet: Tripod feet come in different types and can be useful for certain types of shoots. It's preferable to have replaceable feet in case you want to switch out to a different style
Head: The three types of tripod heads are ball head, gimbal head, and pan head.
Release: How you get the camera on and off the plate and the tripod is important to some photographers. More expensive tripods generally have a much more effective quick release system.
A good tripod will last a long, long time, and it will enable you to get the gorgeous shots you want without a lot of fuss. Our guide will cover some different options for you to consider based on your budget or shooting needs.
Our #1 Recommended Tripod
Vanguard Alta Pro 263AB Aluminum
Our top pick offers a weight capacity of 13.2 pounds, and it extends to 68.5 inches. It is a bit heavy itself, meaning it might not be best for backpacking or travel, but it is a good everyday tripod. The Alta Pro is an excellent all-around tripod, featuring a durable ball head that allows single handed positioning. It's super versatile and has a fantastic range of movement to let you get the perfect shot. It's a high end tripod without the high end price tag – you can't get the same features and construction on any other tripod for this price.
Best Budget Tripod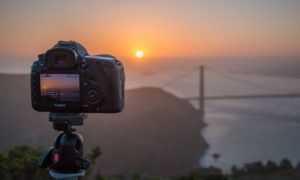 The SLIK Sprint Pro II is a great bargain for entry-level DSLRs and some mid-ranges, with a max weight capacity of 4.5 pounds. It easily extends up to 64 inches and works well for low shots, too. Because it is lightweight, it's good for travel. It folds to a small and compact size for easy storage in a backpack or travel bag. However, it doesn't have a center hook, so users should take care in windy or rocky shooting situations. It's nicely priced and has great construction and durability for a budget tripod.
Best Travel Tripod
Manfrotto Be Free Compact Aluminum Tripod
Manfrotto is a well-known and highly respected manufacturer of camera tripods. The Be Free compact tripod is our pick for best travel tripod because it is well constructed and lightweight for the price point. At a mere 3.1 pounds, the Be Free holds up to 8.8 pounds and stays sturdy. Its portability does mean that it is not quite as tall as some other tripods – the max height is 56.7". Nonetheless, the Manfrotto Be Free is a fantastic travel tripod that will go with you anywhere.
Best Professional Tripod
The Gitzo GT2543L Mountaineer is a bit of a beast, and it's definitely more expensive than many of the tripods that we've reviewed. But if you have a professional camera and heavier lenses, it's imperative that you have a well-constructed tripod that can both support the weight and stay sturdy. It supports up to 39 pounds and features a built-in hook and G-Lock legs. Whether you want to extend it to its full height (70.47") or use it for ground level shots, the versatile and rock solid Mountaineer is for you.
Best Lightweight Tripod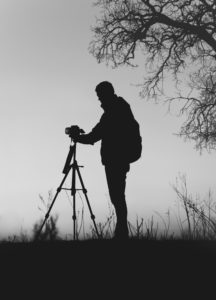 When every ounce counts, you need a lightweight tripod that can still handle your gear. The Sirui T-025X can support up to 13.2 pounds but it only weighs about 2 pounds. It sets up and locks quickly and easily. It features separate knobs to allow for panoramic captures. The leg design enables you to shoot standing or utilize it for a ground level or table top tripod. For hikers and travelers, this is a great lightweight tripod that has quality construction and durability.
Best Video Tripod
Shooting videos with your DSLR requires a good tripod that minimizes shake and can handle your camera. The Benro S7 is designed with videographers in mind, and is well constructed and functional. It also features an S7 Video Head which will give you better control over panning and smoother results. Both the aluminum and carbon fiber versions are fairly heavy, but necessarily so. Videos demand the sturdiest tripods for the best results.
Best Tabletop Tripod
If tall tripods aren't your thing, tabletop tripods might be right up your alley. We like the Gorillapod because it's much more than just a tabletop tripod. It is crazy flexible and can actually be used in a number of different situations. It's popular for vloggers and for low perspective photography. It is incredibly affordable, so it's worth checking out even if you don't think tabletop tripods are for you.