Action cameras are some of the most popular on-the-go video and photo taking devices on the market. Their video and photo taking capabilities are matched by some of the higher-end DSLR and SLR cameras. We use them to document our lives (no matter how crazy they are) at the moment. That's why it's not uncommon to see them mounted on shoulders, helmets, vehicles, aircraft, and even pets.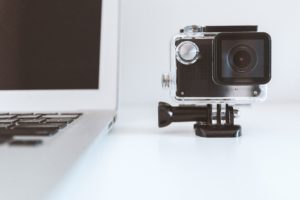 GoPro is definitely the first name that comes to mind when it comes to action cameras. Sure, GoPro certainly makes some high-quality cameras that are raved about. However, some of their cameras have limitations as to where you should take them and what conditions you should put them under. If you're on a budget, a couple hundred dollar GoPro may not be in your best interest. That is why we've compiled a list of action cameras according to budget and occupation.
Furthermore, we'll discuss how to compare one action camera vs. another and what you should look out for.
Our #1 Recommendation

The HERO 6 is the newest toy in GoPro's expanding product base. Soon to follow is the GoPro Fusion, but for now, the HERO 6 tops the market as the best action camera in the world. Customers might be a little hesitant based on price and how new it is, but trust us, you'd think you were a filmmaker with this little camera.
Aesthetically, it's not all too dissimilar from the HERO 5. The one button on top of the camera and touchscreen on the back both make a reappearance. The actual lens placement on the front of the camera is a little different to allow for a new type of camera.
This camera is by far the most advanced in the world. Regardless of the fact that the HERO 6 hasn't been out for so long, 4k at 60FPS quality is about as close as you can get to something like Blu-Ray quality. As soon as you've recorded your videos, they are also uploaded to the GoPro app for improved editing.
You won't have to worry about jarring or shakiness because the HERO 6 features even better stabilization technology than the HERO 5 (which already made a statement on its own). It's also waterproof without a casing up to 10m (best not to try and test that limit).
It's hard to make a case for why the HERO 6 shouldn't be the best action camera in the world.
Best Action Cameras under $100
The Crosstour is a bulkier camera but still offers many of the same specs that the Fitfort does all for an insanely low price. We know what you're thinking—cheap doesn't always mean good quality but the Crosstour is here to dispel that rumor. 12MP and 1080P quality video (not 4k but still awesome) will still get you prime shots no matter the conditions you put it in. That being said, don't treat the Crosstour like it's indestructible. Like the Fitfort, it operates best underwater above 
The Crosstour has nearly triple the operating floor of the Fitfort underwater at thirty meters (ninety-eight feet). This will definitely appeal to swimmers or divers looking to take a camera to deeper spots than just beyond the shore.
We might as well call this camera the "McCool" because that's what it is. With 4k at 30fps and 16mp, the Explorer-Pro is one of the fastest shooting action cameras at the highest quality for an affordable price. Using both rechargeable batteries will give you at maximum, a little over three hours of recording time—perfect for outdoor excursions.
The Explorer Pro comes with two additional shooting features—slow-motion and time-lapse. These features basically give you control over normal and slow to extremely slow speeds. If you consider yourself at the crossroads between hobbies and artistry, then the Explorer Pro is the right balance for you.
You may recognize the name DBPOWER by the drones they manufacture. They manufacture the N6 action camera with the same precision and quality that they do their drones. A simplistic camera with 4k video and 170-degree camera angle (almost completely horizontal) makes sure that your shots are of the utmost quality.
Some designs you might find handy is the inclusion of a touch screen on the back of the camera. Like many cameras, the N6 can be controlled via a smartphone app. The CamKing app also gives you the ability to do some slight photo and video editing with the camera's onboard software. This is perfect for getting repeated shots in a particular area without having to go home to a laptop or desktop to do dedicated editing.
The Akaso EK7000 could also fit under the best waterproof cameras section, but we couldn't pass up the opportunity to put it in our budget section.  The EK7000 is a more dedicated camera for the extreme athlete or hobbyist. It combines a lot of the specs that make previous cameras great—4k video, 25FPS, and 12mp, all of which point to high-quality shots. A remote control attachable to your wrist will enable you to control the camera without much difficulty.
The operating floor of the EK7000 is around 100 feet below the surface of the water. It's hard to find a better camera better equipped for nature than the EK7000 and for a low price.
Best Action Cameras under $200
The Ppan is an odd looking action camera for sure, but it does its job well enough to earn its price tag. The Ppan contains the most diverse shooting methods of any action camera, due in part to its unique shape. Whereas most square action cameras only capture 170 degrees of frontal view, the Ppan extends up to 220 degrees. The camera's built in WiFi function allows you to control its movements from your smartphone and transfer videos directly to that smartphone once you're finished with them.
A panorama function is the Ppan most notable feature. This camera is not ideal for extreme sports and conditions but perfect for capturing emotional moments wherever they might occur. It's also tripod and mount applicable, but they come separate from the Ppan itself.
The SJ5000X may look like your average GoPro, but the reality is it's anything but. It's' built to handle most grueling of journeys but still return some of the best images and videos possible. On the inside, it's equipped with a number of programs and components to keep its shutter steady. In extreme environments, you can expect your camera to be tossed around almost as much as you are. The SJ5000X makes sure to compensate for these conditions while still maintaining a high standard in light filtering and coloration.
This camera also comes equipped with a slow motion feature (240FPS), enabling you to capture precise movements and details as they occur.
Best Action Cameras for Hunting
During a hunt, it's key to have a reliable action camera that can capture sights and sounds of game with precision. The Spypoint Xcel has a 4k quality option and every spec below that with the corresponding megapixel setting. You'll also enjoy the fact that it's camouflaged for forest terrain. It's possible game might be scared away or confused by any other color of action camera.
The Xcel also has a burst mode feature—able to take three photos in only one and a half seconds. If you're looking to track the position of game over time, this feature will definitely come in handy.
The TG-Tracker is a more dedicated action camera for hunting as opposed to ones that are applicable for hunting. It shoots at 4k quality which is what most people are going to be looking for. Its design is a little wonky in that its front facing with the LCD screen located on the side. This means you probably won't be holding it when its recording. Instead it would probably work best strapped to some part of your body or tree.
This camera, besides its video and camera capabilities, has five senors—GPS, compass, accelerometer, thermometer, and a barometer. It would appear that camera is more of a multi-tool than just a camera, which is extremely beneficial to the dedicated hunter.
Best Action Cameras for Sports
Not to be mistaken with the HERO5 Session. The simply put "HERO5" is the crown jewel of current GoPro technology. This camera truly has the most astounding specs about it. The price is still looming but if you're looking to capture important moments on vacation or holiday, the HERO5 is the best camera for the job.
Like the Session, the HERO5 is a simple, one button camera. This button turns on the camera and you can basically control the recording from there with your voice. The back screen is also touch sensitive, giving you the ability to alter the quality and do some slight editing.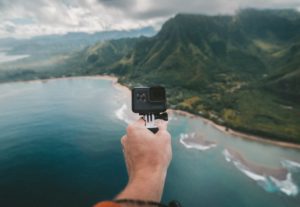 The HERO5 Session is another odd looking action camera. Don't mistake this feature for the inability to do its job well. The camera itself is relatively easy to operate compared to the more rectangular action cameras. Aside from being waterproof, the Session fits snug onto everything from surfboards to helmets.
The Session is one of GoPro's most advanced cameras. It can be voice controlled, enabling you to record without having to reach around to press a button.  Its 4k video at 30FPS is the fastest and highest quality on the market. The price is going to be a concern for most people, but GoPro really knocks it out of the park with the Session. This camera is built to handle the elements and give you some of the recordings of images and videos.
YI 4K Sports and Action Video Camera
The YI is definitely an advanced piece of equipment, employing a number of technologies to produce high-quality shots. The YI's lens covers 160 degrees, slightly lower than the average degree angle but the difference isn't too noticeable. Basically, the YI's specs are designed to compensate for the worst of conditions.
Some cameras (and even phones) will get blazing hot when you set them on the highest quality. The YI compensates for this factor with an advanced cooler that will keep the camera and its valuable electronics from overheating, even on a hot day. The touchscreen will also give you editing capabilities
Best Action Cameras for Helmets
The VIRB tops our list in this category for a number of reasons, not the least of which because of its all-around specs and capabilities. While not a dedicated helmet camera, it's the best kind for the job of off-roading or helmeted sports. It shoots at 30FPS, the highest setting for 4k quality. You'll be getting more than just above average quality.
The VIRB is almost on point with the hunting camera, the TG-Tracker, in that it has a number of sensors built into supplement your journey. If you plan on staying away from home or taking an extended trip, the VIRB can help you adjust to your surroundings and even keep track of your heart rate.
The PIXPRO is a cute little camera similar in design to the TG-Tracker. It's probably the simplest action camera you can get and pretty small at that. It won't have the quality that bigger and more advanced action cameras do but it makes up for these in its versatility. It's waterproof up to thirty feet and has stabilization software to avoid blurry shots.
Its shape is ideal for fitting on helmets or even the sides of helmets.
Comparing Cameras
With technology being updated almost every day, you can expect to see prices drop as higher quality optics becomes more affordable. Still, there is a multitude of action cameras out there, and it's pretty overwhelming. As you're looking through this guide, you're probably wondering, how do I choose between two really good cameras?
If the categories didn't already narrow down your decision, we've provided some pointers and tips to help guide your search.
Sports, Environments, and Conditions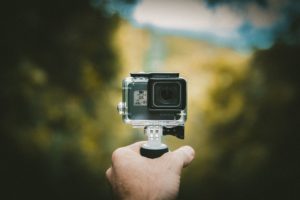 One of the biggest factors you'll have to consider when purchasing an action camera is where are you going to take it and how are you going to use it. Some examples of activities outdoorsmen and women have taken action cameras on are the following—
Rafting
Hiking/Backpacking
Running
Snowboarding/Skiing
Skydiving
Bungee Jumping
Helmeted Sports
While these are just some examples of activities, you'll also have to factor in the weather should it come into play. Rain, wind, and snow are all threats to sensitive optics. Most manufacturers realize that their customers will be going on adventures with their action cameras, so they prepare them as best they can for rugged terrain and harsh weather.
This doesn't mean you should treat your action camera as invincible. Treat it how you would treat a sensitive telescope or camera—with caution and handling.
Quality
Most of the action cameras on our list have the ability to shoot in 4k, 1080p, and 12mp quality. There are some cameras with specs above and below those mentioned, but for the most part, you should be able to get an excellent camera for under $400. However, maybe your budget and desire for camera quality are interlinked, how do you reconcile the two?
If you consider yourself a hobbyist and adventure above all, maybe you're not too keen on purchasing the camera with the highest possible specs on the action camera market. If you're contempt with the shots you get the first time, then you can probably push your search towards the $100 range and below.  If specs are your primary ambition, then the higher priced cameras are going to be your best bet. You may even get a few more shooting methods and editing styles for paying a little more.
Keep in mind which action cameras say they are waterproof. They may be common, but you don't want to purchase one that isn't just because it has fancy specs!
What does it mean when a camera says it has "built-in WiFi"? 
Most, if not all cameras require a WiFi connection to operate. Out in the wilderness or under the water, the internet doesn't exist, so what does this mean? Well, it's actually pretty simple. The camera will have a WiFi adapter compared to your smartphone's emitter. The two will search for each other even outside civilization. Once they're connected, you're good to go! Just don't expect to run much beyond the camera's specific app.
Overall
We guarantee that you're going to be satisfied with whatever action camera you end up purchasing from this list. While GoPro is still the hottest name on the market, don't count out the various other manufacturers. Some of them, like the Ppap and the MGcool have some unique qualities about them that will make you do a double take.
It's important to take care of these optics despite how battle-tested they may be according to other users. The warranty can only cover so much for so long. Carefully and soundly attaching a camera to your body or helmet will extend its lifetime dramatically.