Nikon is one of the best DSLR brands out there. With numerous excellent DSLR camera offerings, it can be tough to know which model to buy. This guide will tell you about some of the best Nikon cameras available so that you can make an informed choice when it's time to pick up your new camera.
Two Nikon cameras, the D5 and D500 took top spots in the "Best Overall" category. You can read our reviews of them here and here
[table "1" not found /]
For the Detail-Oriented: Nikon D810
The D810 is known for its incredible resolution and sharpness. This professional-level DSLR is essentially two previous models – the D800 and D00E – rolled into one super-camera.
Here are some of the key specs: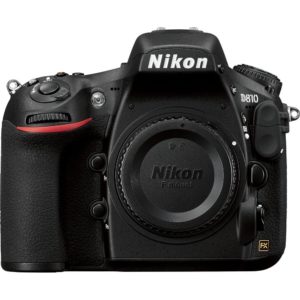 36.3MP Full-frame CMOS sensor
ISO 64-12,800
'RAW Size S' 9MP Raw mode
Expeed 4 engine
Max 5fps shooting in FX mode, 7fps in DX
3.2in 1,229k-dot RGBW LCD screen
91,000-pixel RGB metering sensor for advanced subject tracking and metering
Scene Recognition System (face detection in OVF mode)
51-point AF
1080p videos recorded at 60/50/30/25/24p
In addition to the great specs that make it beloved by landscape and wedding photographers alike, the D810 has a fantastic design. It's much improved over the previous 800-series styles. In the design of both the body and the controls, it's obvious that attention to detail played a role here, too.
The D810 is well suited to videographers, too. You can record 1080p videos uncompressed to an external device, compressed to an internal CF/SD card or both simultaneously. Additional video features, like stereo built-in mic and zebra stripes for checking exposure, are complemented by new tech like highlight-weighted metering.
For Those on the Move: Nikon D750
The D750 is less expensive than the D810 and offers some excellent features that make it ideal for active photographers. It doesn't match the resolution of the D810, but at close to $1000 less, that's to be expected.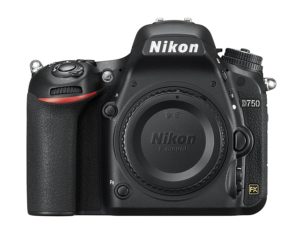 Here are some of the key specs of the D750:
Full-frame CMOS sensor, 24.3MP
3.2-inch tilt-angle display, 1,229,000 dots
1080p video capture
6.5 fps continuous shooting
51-point Multi-CAM 3500FX II AF system (sensitive to -3EV)
91,000-pixel RGB metering sensor with face detection
Wi-Fi Built in
Highlight-weighted metering
Simultaneous internal recording and HDMI output
The D750 is lightweight and comfortable to use, and it features some of the same specs as the D810 – namely, the 51 point AF system and metering system, as well as the same video specification. However, it has faster continuous shooting than the 810, and it has a cool tilt-angle display.
The built in Wi-Fi is relevant to today's photography needs, but with so many cameras still lacking that feature, this gives the D750 a leg up. In addition to being an excellent camera for photographers on the move, this is also a great choice for a next-level camera for those upgrading their entry-level DSLR. (Though you might also check out the D610 for something slightly less expensive but still worthwhile).
For the D750 Fan on a Budget: Nikon D7200
The D7200 still makes our list of top Nikon cameras, but we've gotta be honest – there isn't too terribly much difference between it and the D750, assuming sensor doesn't matter. There is a difference in price, and that can be a deciding factor for many shoppers.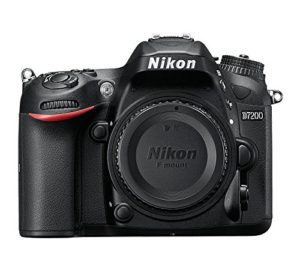 Let's look at the key specs for the D7200:
24.2MP CMOS sensor with no optical low-pass filter
Multi-CAM 3500DX II 51-point AF system
2,016-pixel RGB metering sensor
ISO 100-25,600,
6 fps continuous shooting
1/8000 sec maximum shutter speed
3.2″, 1.2M dot RGBW LCD display
1080/60p video (1.3x crop only) with clean output over HDMI and Flat Picture Control
Dual SD card slots
SnapBridge (Wi-Fi with NFC)
So, why might you choose the D7200 over the D750? Of course, price can be a huge factor. But the D7200 does have a few advantages in terms of specs over the D750. These include max ISO and faster shutter speed.
We're also talking about different sensors (the D750 is full frame), so if you have gear already, you'll want to stick to the sensor size that will work with your lenses. But if you're making the leap to Nikon, you'll have your decision-making work cut out for you.
For the New 'Enthusiast': Nikon D5600
Technically, Nikon considers the D5600 to be "Entry-Level," but we respectfully disagree. This would be an excellent option for someone with some DSLR experience who wants a bit more in the way of options. Having said that, it is also well suited for a new DSLR convert who has a bit of money to spend.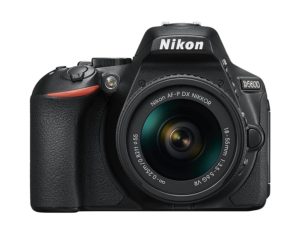 Here are some of the key specs of the D5600:
24MP APS-C CMOS sensor
39 point AF sensor with 9 central cross-type points
2,016-pixel RGB sensor assists AF tracking and metering
Up to 5 fps continuous shooting
SnapBridge Bluetooth/Wi-Fi communication
1080/60p video capability
Time-lapse movie feature
The D5600 is one of Nikon's most recent offerings. It replaces the D5500. While there aren't huge changes from the D5500 to the D5600, there are enough that make this the best entry-level slash mid-level DSLR out there. The price is fantastic, and the addition of Nikon's SnapBridge connectivity is welcome (it even works a bit better here than on the D500).
It isn't super well suited to sports or wildlife, but it does have excellent image quality. We think this model is great for still shooters – it will give you crisp, detailed landscapes and low noise (up to ISO 6400). The video quality is in line with other models without 4K, so unless you're expecting 4K, the video capability is great.
For the Newbie/Cost-Conscious: Nikon D3400
It's true that we think Canon has the best entry-level DSLRs, but for a new DSLR user with a budget, the D3400 is a fantastic choice. The D3400 is well priced and is a perfect introduction to the Nikon family.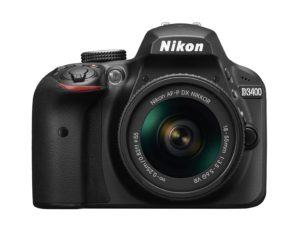 Here are some of the key specs:
24MP APS-C CMOS sensor
11-point phase detect AF system
Fixed 3″ 920k-dot LCD screen
5/fps burst shooting
1080p video capture
Bluetooth LE for image transfer
Overall, the D3400 is in line with what one would expect for an entry-level DSLR. The price really makes it appealing, and for shutterbugs interested in joining the Nikon club, this is the most affordable way to do that. The sensor, AF system, and video specs are good for this level, and the overall feel of the body is good. It's a lightweight, easy to use model for a newcomer to Nikon.