The Hasselblad H5D-60 Medium Format DSLR is the most expensive camera we have ever and probably will ever review. It's so expensive that you – as many joking reviews will note – could have a huge down payment on a house, pay off student loans, or buy a very nice car for the price of this camera.
But here's the thing:  this isn't a camera that a semi-pro photographer or weekend shutterbug would ever need or want. But for professional photographers, the H5D-60 is the granddaddy of all DSLR cameras.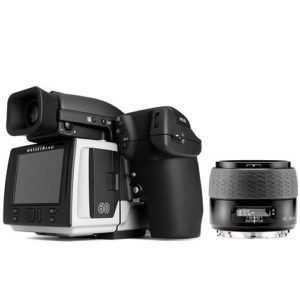 Here are the specs of this beast:
60 Megapixel Resolution
2 x 53.7mm CCD Sensor
0″ 24-Bit Color LCD w/ 460,320 Pixels
True Focus II and Focus Confirm
16-Bit Color Definition
Hasselblad RAW 3FR File Format
Compatible with H-System Components
DAC Automated Lens Correction System
Digital Spirit Level
Phocus and Lightroom 4 Software Included
This camera is designed for professionals in fashion, advertising, commercial, architecture, and so forth, so its design and functionality matches that core user. There isn't much to say to convince a casual user or semi-pro to drop this kind of money on a camera.
All of this is to get to the point that, yes, we know this is a very expensive camera that is completely impractical 99% of the time. For those other times, however, here's what to know.
The design of the H5D-60 is completely unique. There's an aesthetic quality to the look of it, but the ergonomics are smartly laid out and intuitive. The back, lens, viewfinder, and viewing screen are all interchangeable. All the control functions you need are available for your hand as it holds the camera. It's quick and easy to adjust settings as you shoot.
The image quality is what you would expect from an absolute top of the line DSLR. ISO performance is astounding, and images are crisp, detailed, and gorgeous. The True Focus AF is fantastic, of course, and the Focus Confirm means you don't have to stop and check the focus.
The H5D-60 comes with Hasselblad's processing software as well as Adobe Lightroom 4. Hasselblad Image Processing Architecture provides fast performance and transfer speed.
Aside from price, there's nothing to dislike about this peak medium format DSLR. If it's for you, you will get everything you need for your professional shots, and you will appreciate the design and layout overall. There's simply no better professional camera on the market, so if you can get it, do. Hasselblad has a devoted following for good reason.