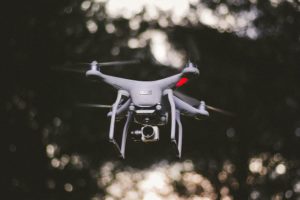 A drone, or Unmanned Aerial Vehicle (UAV), is a remote-controlled aircraft that only recently entered the market for amateur use. Previously one might have seen them being flown by the military. Now that people recognize their potential as a utility aircraft, a variety of drones in all shapes and sizes are appearing in the skies, offering their pilots unparalleled views.
Before drones, extended selfie sticks and climbing trees seemed like too much of a hassle (or hazard) to get good videos or photos from above. Depending on their battery life and optimal range, drones can offer you views for miles around or get into tight spaces for the most difficult of shots. Either way, choosing the right drone is going to be a challenge, which is why we've prepared a guide to help you decide the one that's good for your wallet, skills, and needs.
Types of Drones
The drone frenzy doesn't appear to be slowing down anytime soon. In the optics and video making world, the view and perspective provided by drones can be breathtaking. Not only are people snatching up drones, but they are specifically after camera-equipped drones.
These drones come equipped with different quality of cameras while others are built to hold smaller cameras and GoPros. Depending on your experience level and the shooting you want to do, different drones will be more applicable to you than others. The higher the quality and the heavier the payload, the more expensive the drone. We don't recommend fidgeting with the drones that come with cameras, as the drones themselves are extremely delicate.
You'll see a variety of drones on the market, but the majority of them are going to be quadcopters, which offer the most stable flight. However, you'll see everything from cute little single propellers to massive behemoths that can sport six or eight propellers.
Brands
Because drones are a relatively new technology available to the public, it can be difficult to choose a brand to place your trust in. Smaller, beginner drones are going to be the most numerous of the drone types, and thus there are many manufacturers. However, there are a few brands that have separated themselves from the competition and notoriety within the drone community:
DJI—One of the most well-known drone manufacturers. They make the "Phantom" model which is a very popular line of drones.
Yuneec—Manufacturers higher quality drones with advanced systems. Typically marketed towards the higher end hobbyist and professional.
Autel—A newer startup that created the X-Star (listed below). As a smaller company, they have a create customer service reputation aside from having a reliable drone.
Force1—Makers of smaller, more numerous drones that don't have high-quality cameras, but are still a joy to fly.
The Beginners
These drones are the cheapest on the market, but that shouldn't be a reflection of their trustworthiness. While inexpensive, they can still carry basic cameras (most being 720p quality) or different types of GoPros. They'll get the job done and be generous to your wallet.
They are the perfect entry-level drones not just because they are small and cheap, but because their flight time is usually pretty short which keeps them in range of you or whoever is the pilot. As a result, you should probably fly them around or close to home for an easy recovery.
Best drones under $100
Syma X5C
The X5C is one of the cheapest drones on our list and one of the best in terms of all-around quality. The photos and videos you take on its HD camera are pretty standard and nothing too special. With a flight time of 6 minutes, you're pretty limited on what you're able to do, which also makes it a versatile indoor/outdoor aircraft.
While the flight time is indeed small, it doesn't limit the aircraft on where it can fly. The indoors are a perfect environment to operate without having to worry about the wind taking it and throwing it off course. Onboard nighttime lights will also come in handy if you're looking to fly it in the evening.
TOZO Q1012
The X8tw is a unique drone in that its 720p HD camera comes built into the body of the drone. This will appeal to concerned drone users if the drone malfunctions or bumps into the something—the camera is protected within the body. This doesn't mean that you should fly around recklessly!
You can fly the X8tw with either a remote control or by your fingers if you choose to download the app for iOS or Android. This drone is perfect for beginners looking to mesh their skills with aerial photography and flying in general.
SZJJX APP-RC 
The APP-RC takes the cake for one of the coolest looking drones of any price. It looks like something you'd find in a video game or movie. Better yet, it almost fit's in the palm of your hand with its built-in 480p (0.3MP HD) camera. The APP-RC used unusually advanced technology for its control and imaging systems, allowing the user to see through the eyes of the drone from a smartphone app and recall with a push of a button on the controller.
Its propellers are completely encased in air guards. Most drone's you'll see only have the air guards around portions of the propellers because they add weight and shift airflow around the drone. If you end up dropping the APP-RC, chances are it'll fair a lot better than most drones. Its small size will also help in minimizing damage.
The camera isn't the best quality in the world and flight time is about six minutes. That being said, the fact that it does have a camera mean's you'll still be able to use it to take pictures, you just won't have much time to do so. Regardless, the APP-RC is still a very reliable drone that will be fun for everyone from the beginner to the pro.
The GordVE is also another drone with a sleek, almost sci-fi look design. It's about twice the size of the APP-RC and is praised by users just as much.  A flying time of around 8-9 minutes gives it a little boost over the APP-RC. The drone also comes equipped with a headless mode, giving it increased agility and mobility.
The most notable fact about the GordVE is its camera, capable of 720p and 1080p, which is almost unheard of for a drone of this size and price. Furthermore, if you happen to have a VR headset or glasses, you can connect to your phone and see what the drone sees. Now that is some next level technology.
Best drones under $200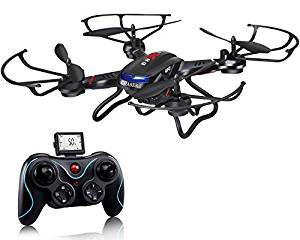 Holy Stone's F181 is a comfortable compromise between affordability and versatility as a beginner's drone. It's 2MP (megapixel) will deliver you crisp photos from wherever it's positioned in the sky. Perhaps its greatest quality is its "headless" system, which means the drone will always fly forward, backward, side to side regardless of which way the "front" of the drone is facing. With different percentages of power settings, this is perfect for beginners looking to test their skills over time.
One drawback of the F181 is its meager flight time, anywhere between 7-9 minutes and a range of only 100 meters. This means that it's preferable for beginners who aren't looking to go up high or too far away. With a total charge time of around 80 minutes, it seems a little unbalanced regarding what you get from flight time.
As a result, you should plan out where and what you want to see with your drone before you lift off. Once the charge runs out, your drone should be nearby, or in your hands otherwise, it'll drop out of the sky!
DBPOWER Quadcopter 
The DBPOWER drone is well liked among the drone community for its durability and maneuverability. Many users have complimented the DBPOWER on its ability to withstand (moderate) punishment and keep flying. It has a different overall design than Holy Stone's and TOZO's with a small body and its propellers located inside their respective guards.
Like the F181, the DBPOWER can be controlled via an app on your smartphone. Even more, you can tilt your smartphone in any direction, and FPV will respond accordingly. If you're feeling brave, give the DBPOWER's 360-degree flip capability a try! The DBPOWER comes with a 720p HD camera that will have to be set manually before flight.
Force1 U45W Blue Jay 
The Force1 Blue Jay is a cutting-edge beginners drone, mainly due to its features and capabilities that allow the user a wide range of viewing and function. Like some of the drones on this list, it is controllable via WiFi and a smartphone app and can be viewed through a VR headset/glasses.
One of the Blue Jay's most interesting features is its ability to fly a set path unassisted from a pilot. If you're unsure about your skills as a pilot, you can try out the Blue Jay's onboard navigation and allow it to fly itself to its destination along a series of points.
Force1 also manufacturers the UDI drone. This drone is somewhat similar in design to the Blue Jay and just as fancy when it comes to capabilities. The UDI shares the same route mode that the Blue Jay has, enabling it to fly along a series of points that you create for it.
A 720p/2mp camera is perfect for a beginner pilot and photographer. As a forethought, you should try mastering the drone before you try to take the craziest shots possible.
The Hobbyists
Some people like the skip cheaper drones and go straight to the best sellers. Companies such as DJI and Yuneec are some of the most well-known drone makers due to their unique design of drone. While the following drones aren't necessarily made for children, they're not the most difficult to handle either. If your child or friend who has no experience with drones, check out one of the ones below. Be sure they practice long before they start pulling crazy maneuvers and flips.
These drones will probably require less assembly and an easier learning curve than the ones built for pros but need more patience and practice than the beginners. Since they are more pricey, we recommend you study tutorials or even converse with fellow owners about your newer drone if possible.
Best drones under $500
Force1 F100 Ghost 
The F100 Ghost is a basic design for a much lower price than drones that come with their cameras or GoPros. The F100 specifically can carry the GoPro Hero 3 or 4. Keep in mind this will add extra weight to the drone and detract from total flight time. Regardless, it will save you from having to buy a more expensive drone that will come with a camera-equipped
Drones can make a lot of noise with their fast spinning propellers (not counting how many of them they have). The F100 utilizes brushless fans that spin more quietly. If you have neighbors that were upset at the sound of your last drone, they'll be much more accepting of this one. If you're feeling even more daring, try testing out the F100's maneuverability in a 360-degree loop!
The DJI Spark is the first "mini" drone to make our hobbyist's list. The 12mp/1080p camera and video automatically qualify it in the optics business, but what makes it worth its price tag?
When we think of mini-drones, we're normally aware of their short flight time. However, the Spark uses a more powerful 11.4V LiPo battery, doubling it's smaller cousin's flight time from 8-9 minutes to about 16 to 17 minutes depending on flight patterns. Like most of the hobby drones on this list, a smartphone app allows you to see where the drone is going while you use a remote control to dictate its movements.
Since the Spark is one of the latest pieces of DJI technology and the smallest at that, it comes with propeller guards for increased protection against accidents. Especially with the price involved with the Spark, you want to take every precaution possible to ensure its safety.
The Bebop compliments its cute appearance with an arrangement of stats and abilities that make it worth its price tag. First and foremost, the camera shoots 1080p videos and 14mp pictures, which is pretty high quality for a drone of its size and price. The camera itself is built into the body of the drone, so there's need to worry about the drone crashing and crushing the camera under it.
The Bebop comes with a state of the art controller along with VR goggles (connected via the smartphone app), so you can see through the eyes of the drone. This feature can provide you with enhanced mobility and awareness of the drone's surroundings.
What many users have enjoyed about the Bebop is its near half-hour flight time, which is a huge boost over the beginner drones. That being said, using the Bebop's smart features to keep it safe and within range will dramatically extend its lifetime.
Best drones under $800
DJI Phantom P3-STANDARD Quadcopter 
The Phantom is probably one of the better all-around drones in every aspect compared to drones both more or less expensive. An extended 25 minutes of flight time is sure to give you enough time to accomplish what you want to see or shoot with its attached 2.7K video/12mp camera. This camera is a much higher quality photo/video taker than any other drone before it, which is why it's the most popular. You've probably seen someone's phantom flying around with its distinctive white and red paint scheme.
The Phantom's flight controls can be a little tricky, so we recommend experience with easier or small drones, to begin with. The Phantom uses WiFi, GPS, and an onboard compass to maintain its flight, and having complete control over all is going to take some practice.
However, once you master having to handle the "flying samurai sword" as one user joked, you can expect your videos and pictures to turn out even better.
DJI Phantom 3 Professional 
The Phantom 3 is the face of the drone industry, and its line of products is probably one of the most numerous in the sky (discounting smaller, indoor drones). The Phantom 3 has a wide reputation for also being the best all-around drone for a number of reasons including price, flight time, and camera quality.
A 4k UHD(30 frames per second)/12mp video and camera are some of the most high-quality optics available to amateurs for under a grand. The Phantom sits right on the median between amateur and pro, with most drones following being more for professionals with specific jobs.
If you're a beginner looking to jump right into the Phantom 3, then you're in luck. The Phantom 3 comes with a beginner's system that will show you the basics of this advanced drone before you start to fly like an experienced pilot. This drone has just about everything you could ever need. Its various systems will allow you to get precise shots and remain aloft for just over twenty minutes.
The photo taking is amazing, but the Phantom 3 is known primarily for the 4k video quality, almost unparalleled in the drone market unless you want to spend more money. With the drone's versatility, it seems ludicrous to not take advantage of long video shots as the drone flies overhead.
Autel Robotics X-Star Premium Drone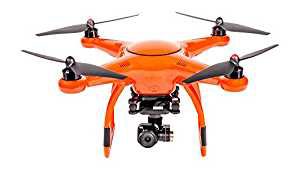 The Autel X-Star is a simple looking drone not too unlike the Phantom 3. A 4k camera separates it from the competition. The X-Star is unique with its smartphone/tablet app in that if the app crashes or your phone dies during flight, the remote control has an LCD light that will tell you when the battery is low. That being said, you should (and are required) to keep the drone within sight.
The mounting device linking the drone with the camera is removable. The X-Star gives you the option of mounting a different camera or trying out modifications. If you do want to modify the drone in any way, you should consult drone forums for advice before trying to pry pieces away from the body.
As you can probably tell by now, flying drones is no easy feat. The price tag and learning curve are directly related—as one increases, so does the other. The following drones are equipped with (or can carry) some of the best quality cameras that are drone applicable.
These drones aren't for beginners. The experienced drone pilot will have good knowledge of a particular aircraft's advanced systems in order to maximize the efficiency of photo or video taking. They will also know the basics on how to keep the aircraft out of harm's way. This is why you'll commonly see the operators of these drones with experience in a variety of other drones.
Best drones under $1000
Yuneec TYPHOON Flight Aerial Videography Hexacopter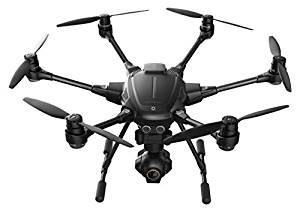 The Typhoon has an even more intricate design as a hexacopter with six rotating propellers. This drone marks the transition from amateur to professional with its hefty price tag. The Typhoon's advanced GPS system allows it to track the user without controls from a remote or phone. Whether you're walking, running, or swimming, the Typhoon will follow at a distance and provide you with unbeatable views from above with 4k, Ultra HD quality.
A notable feature of the Typhoon is the presence of a fail-safe rotor system. In the event one or more propellers fail, the drone will automatically adjust to the loss of power and keep itself from crashing to the ground as long as possible until you can recover it.
There are similar drones for around the same price, so what makes the Typhoon so different? To start, the camera has a 360-degree range of motion and a 98-degree field of view. This enables it to see most things directly below it without moving a mechanical muscle. This feature is only one of many "smart" features that the Typhoon is capable of which makes its price tag all the more worth it.
DJI Mavic Pro 
The Mavic Pro is another intuitive design by DJI so you're probably asking, what makes it so different from the Phantom 3 or the next step up, the T600? First off, it's a pretty versatile drone. We like to use that word a lot, but the Mavic Pro really takes it to the next level. It can fly close to 40mph at top speed and its wings can fold to a compact size. It has a maximum range of 4.3 miles, which is almost unheard of when we look at cheaper and smaller drones.
These physical features already compliment the drone's 4k camera, which sits in the nose of the aircraft. Furthermore, the camera is perfectly stabilized along 3 axis' in the nose, giving you stable pictures and videos for the duration of the flight.
Like the Spark, the Mavic Pro also utilizes a hand control recognition system but to a lesser extent. This drone takes many of the strengths of other DJI products and combines them into one, really fast drone.
Best drones over $2000
DJI T600-Dual-Controllers Inspire 1 Quadcopter 
Sometimes being a pilot and photographer can be a hassle if you combine the two jobs. The FAA wouldn't be happy with you! That's why the designers at DJI have created the T600 (not the terminator) to split the jobs of pilot and photographer and maximize performance. The T600 comes with two controllers—one for the pilot and the other for the photographer/videographer. This innovative design will help you and a partner control both functions optimally without compromising the other's ability.
A 4k/12mp camera will surely accomplish all of your photo and video taking needs as this drone has the capability to fly nearly 1.2 miles away and stream whatever it sees directly back to you.
So what makes this drone special in our hearts? Aside from the astounding 4k/12mp camera, it has indoor and outdoor uses via its intricate design. This gives it a more steady flight pattern compared to other drones with heavier propellors or unusual designs.
The ALTA UAV is the ultimate workhorse for the professional artist. The price tag is astronomical, but we reckon you know what you're if you're considering this drone. This heavy duty drone is strong enough to carry a basic film camera or any optics up to fifteen pounds. For easier transport, the ALTA folds up nicely.
Obviously, it's not made to make the nifty flips and turns like the smaller drones, but you're likely to get some of the best shots and videos of any drone on this list with the ALTA. Despite its size, the ALTA's highly sophisticated controller allows for more complicated maneuvers. It would be very good idea to test your skills on a variety of drones before taking this beast on.
So you've purchased a drone…
Congratulations! You're almost ready to get your drone in the air. First things first, however, there are a couple of very important pointers and regulations you are required to know before your drone can even leave your house.
The FAA
Most beginner's drones, due to their small size, can't go beyond your house. Most only have flight times of less than ten minutes. Regardless, the Federal Aviation Administration is extremely particular about keeping drones away from vital areas such as airports, power stations, and densely populated areas.
As such, the FAA has created a list of drones (usually some of the bigger ones) that it requires you to register if you own it. If you are the owner of the drone, the FAA will usually require you to register as a pilot as well. This may seem a little detrimental to the fun you're looking to have, but it's all necessary. This registration and various courses on drone safety will educate you on piloting best practices.
Once you've completed any and all necessary documentation and courses with the FAA, you're free to enjoy your drone!
Best Practices
Your drone is an expensive piece of equipment, and we would like for you to enjoy it as long as possible. Therefore we've compiled a list of best practices that you should at least be aware of as you introduce your drone to the wild.
Keep it safe—don't leave your drone lying around when you're not at home. It's an expensive toy, and many people would love to take it off your hands without asking.
Clean it—chances are you're probably going to have one or two crash landings in your drone's lifetime. Make sure to clean off any water or dirt that may have stuck to it.
Extra batteries—your drone may have room on its body for an extra battery. Most extra batteries don't come free. If you want to extend the flight time of your drone, an extra battery will usually double it.
Check forums and reviews—you're not the only one to hold your type of drone. If you ever need an answer, check various drone forums or consult the manual relentlessly before trying to get a hold of the manufacturer.
Try all the features—the drone's features and capabilities aren't just for show. Some of them, like the "recall" function, will save the drone if you lose sight of it or don't know what direction you're heading.
Be safe and aware!
Drone safety is critical, especially to the government. You'll most likely have to register as a pilot to fly some of the bigger drones or fly them near residential areas. Please read up on your drone's manufacturer with drone regulations before taking flight.
In any case, the drones we've prepared for you have proven their worth to photographers, videographers, and filmmakers alike.
Choosing a Drone
With all the different brands and their constantly increasing number of drone lines, it can even more difficult to find the right drone for yourself even if you've identified a particular brand. The first thing you should understand about drones is that the more advanced you go, the more training and specialization needs to be done.
Beginners will have an easier time choosing drones. The smaller ones will be easier to fly and have less flight time, which will keep them in range of you.
Let's face it, if you're buying drones that are starting to go into the hundreds of dollars, you're probably looking to maximize the capabilities of its camera and video. If photography is your game, then you'll immediately discount the beginner's drones and go straight for the DJI or Yuneec based drones.
Just because you are a professional artist doesn't mean you should treat the drone any differently than any other optic. They should be well maintained and kept out of harm's way or the hands of small children when they're not flying. The more you take responsibility for it and keep it out of dangerous conditions, the longer it will last you.