Drones are quickly becoming some of the most popular toys and tools in the sky. They can perform tricks, complex maneuvers, and commands, and help you get your artistic shots. Drones are fun for the whole family and the individual.
Black Friday and Cyber Monday 2017 are nearly upon us, and that means you'll be looking to shave the price off some high quality and high priced drones. Below is a list of drone manufacturers and companies that produce the most popular drones on the market. 
In this list are beginner, mini, professional, and hobby drones, so make sure you know which one you're looking at before you click that purchase button!
Click here to browse our list of best camera drones.
Click here to search for the best racing drones.
Aerix

Aerix is a popular mini and beginner drone builder. This nano drone comes well protected with an outer frame for all you prospective pilots.
Altair
The AA108 is a first-person drone whose camera is mounted in the nose. It comes with air guards and a variety of functions to show off its capabilities!
Autel Robotics
The premier product of Autel Robotics, the X-Star is one of the hottest camera drones on the market. It'll still be pricey even during Black Friday/Cyber Monday, but will definitely be worth it for the professional pilot and artist.
Related: X-Star vs. Phantom 3
DJI
Phantom 3– The primary model of the Phantom series. Comes with 4k UHD video and specific controls for the camera and the drone to increase stability during flight.

Related: X-Star vs. Phantom 3
Phantom P3 Standard-Widely regarded as the most popular camera drone on the market. It has 25 minutes of flight time with 2.7k HD video quality and a live feed to your phone from the drone's camera.
Phantom 4– Latest edition in the Phantom series with 4k UHD video and 30fps. The camera is one of the most precise and high-quality for DJI and camera drones of this type. Professional artists will really get a kick out of this drone. The PRO and the PRO+ also come with small but noticeable improvements over each other.
Mavic Pro–DJI's crown jewel in its drone fleet. The Mavic Pro has a multitude of smart features to diversify your flying experience. The camera is also movable inside the nose position, so you can the best shots easier and more efficiently. It's also foldable for ease of transportation.
Related: Mavic Pro Review
Spark–DJI's first mini-drone. The camera comes mounted in the nose and has the ability to be guided by hand movements. A good beginners drone for those who are little uneasy with controllers.
Related: Spark Review
Force1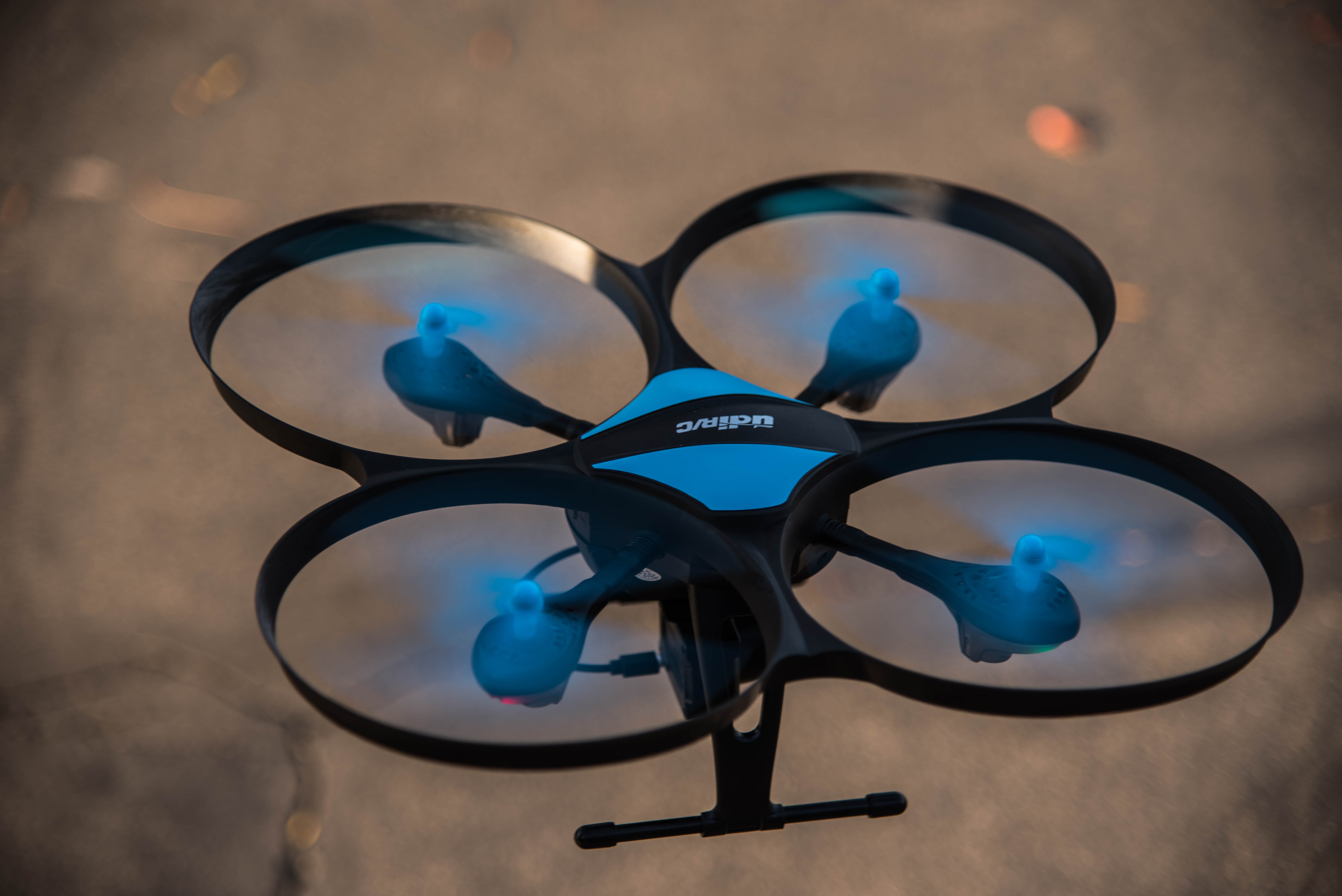 The quintessential intermediate drone with a 720p resolution video/photo camera. Perfect for beginners looking to upgrade into the more advanced drone categories. It has a great flight time of around 15 minutes.
Related: U49W Blue Heron Review
Very similar to the Blue Heron but a little more geared towards beginners. Comes with air guards for increased protection under the propellers.
A cousin of the Blue Heron and the Blue Jay, this version of the U45 comes with a more advanced controller so you can perform stunts and tricks on top of taking photos with its 720p camera. It's also a fraction of the price from the Blue Jay and the Blue Heron.
The F111 Phoenix is a futuristic looking, foldable drone with a 720p camera mounted in the nose. Like most Force1 drones, it's easy to fly and has functions geared towards beginner pilots.
GOOLRC
The T32 is another quadcopter with a common design-nose mounted 720 camera, underside air guards, and foldable wings. It's also pretty versatile with a 360-degree roll capability on top of live transmission from the camera.
Holy Stone
The HS300 sports a better quality 1080p camera. You can also swap this camera out for your own GoPro or similar sized action camera if you have one. As one of the largest Holy Stone drones, it still has a variety of functions for stable yet diverse flight.
HS200 Quadcopter
The HS200's camera is mounted just under the nose and like most Force1 and Holy Stone Drones, sports many controls and functions for a quadcopter. Flight time is pretty short, so you should plan your routes accordingly.
The F181 is a popular drone with a user-friendly controller. Why is it so popular? Aside from looking cool (especially in night time), it isn't overloaded with functions for 7-10 minutes of total flight time.
The HS170 is a hot selling mini-drone that stays aloft for a good 6-8 minutes, which is pretty impressive compared to most mainstream mini-drones. It also recharges within an hour compared to other drones which could take multiple hours.
The HS190 is a cute little mini-drone that's perfect for beginners. Even though its small, it's pretty durable assuming you'll be keeping it indoors for the most part.
Hubsan
The H107L is another mini-drone equipped with LED lights. The air guards come with the drone but you have the option to take them off. For an even greater challenge, you can switch between normal and expert flight mode. It's pretty light and on the flipside has a powerful thrust capability.
The H501 is a brushless drone, so it'll be quieter in flight. For its size, it's a pretty smart drone and it comes equipped with a 1080p camera in the nose. On top of that, it has a couple of smart features to improve your flying experience and make it easier to handle.
Parrot
The Bebop 2 is Parrot's latest drone and pretty intuitive at that. The 1080p camera is mounted in the nose and you're able to pilot the drone through VR goggles. The camera will remain stable inside the drone even if flying becomes erratic. It also has a long range of about 1.2 miles.
Related: Bebop 2 Review
Syma
The X5C is a popular drone for its all-around capabilities as a stunt and camera drone. Despite it being a light drone, it can be flown in less than ideal conditions against the wind. Flight time is pretty low but it can be recharged in a little over 1.5 hours.
The Venture looks similar to Phantom drones but it is far cheaper. With a four-point landing system, you can rest assured that the camera in the belly of the drone will be safe from awkward or hard landings. It can also be equipped with air guards for extra propeller protection.
Yuneec
The Typhoon H is one of the few hexacopter drones on the market. It's well worth the price for retractable landing gear and a camera that's adjustable in flight. The camera is one of the best parts-able to take 4k quality video and 12MP photos.
Related: Typhoon H Review